Ways to Find an Attorney
The three basic ways to find an attorney are below. You should schedule a preliminary consultation.. You never want to hire an attorney without meeting with them and discussing your case first.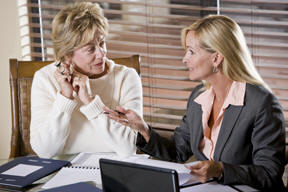 Asking family and friends
There is probably no better way to find an attorney that the recommendation of friends or family who have worked with the attorney in the past and were satisfied with his or her work. This should be an indication that the attorney is knowledgeable and trustworthy. This is the most ideal way to find possible attorneys.

Look in the phone book or at brochures. While you will be presented with a wide variety of choices, you should be able to hone in on one or two that you would like to learn more about.

Search the web for attorneys in your area. A standard web search should yield a number of names to investigate further. Use the attorneys' websites to learn more about them and their practice.
Scheduling a Consultation
After finding a family law attorney that may be a good fit, schedule a consultation. There is usually a fee of some kind, but there won't be an obligation to hire the firm. Instead, you can ask about strategy and how he or she thinks your case will go in court. The attorney should ask you about your particular situation and concerns.
When you arrive at the consultation, do your best to be professional and relaxed at the same time. You will be working with the attorney quite a bit, so be yourself. You want to make sure you and the attorney are a good match.
At the Consultation, Ask About Email Use
Ask your attorney about their email policy. find out if the lawyer you hire is equipped to send you correspondence, documents, and court orders via email. Many lawyers send you copies of such documents only via the U.S. Postal Service, which leads to several days of delay before you can receive and review important documents that you receive by mail. You might be surprised to find that some older attorneys do not like to email. From the standpoint of hourly fees, we think it is the best way for you to express your concerns. You can say what you want and there are no interruptions. Ask how long it will take to get a response from your lawyer via email, as opposed to a phone call.
Last, ask if your attorney will bill you to review emails. Expect the answer to be yes; a good lawyer's time is valuable and they should be paid to answer your questions and respond to email. Keep in mind that in the long run you may save significant attorney fees by getting your questions answered in a timely manner and expediting your case.